Academic Maps If you're interested in an Engineering career, you can now start your studies at the University of Maine at Presque Isle. Through the University of Maine System's new Maine Engineering Pathways Program, students can take advantage of this exciting 1+3 degree program offering at UMPI–the only engineering pathway available in northern Maine. You'll complete the first year of your engineering education at UMPI, and then complete the remaining three years of your engineering degree at the University of Maine or the University of Southern Maine.
A degree in Engineering allows you to tackle some of the world's biggest problems: energy supply, infrastructure repair, and healthcare delivery. It also opens the door to a career field where jobs are in high demand and have one of the highest average starting salaries. Engineering jobs in Maine have grown 25% in the last decade and average annual starting salaries are more than $60,000.
Start your Engineering degree closer to home and very, very affordably at UMPI.
How Does it Work?
During the first year of the program, you must successfully complete about 35 credits of math, science, and general education classes, as well as an introductory Engineering course. You can then transfer to one of the 13 Engineering programs available at UMaine and USM. In order to transfer to one of UMaine's Engineering programs, you need a minimum overall GPA of 2.5. To transfer to one of UMaine's Engineering Technology programs, the minimum requirement is greater than 2.0; for USM's Engineering programs, the minimum requirement is 2.0.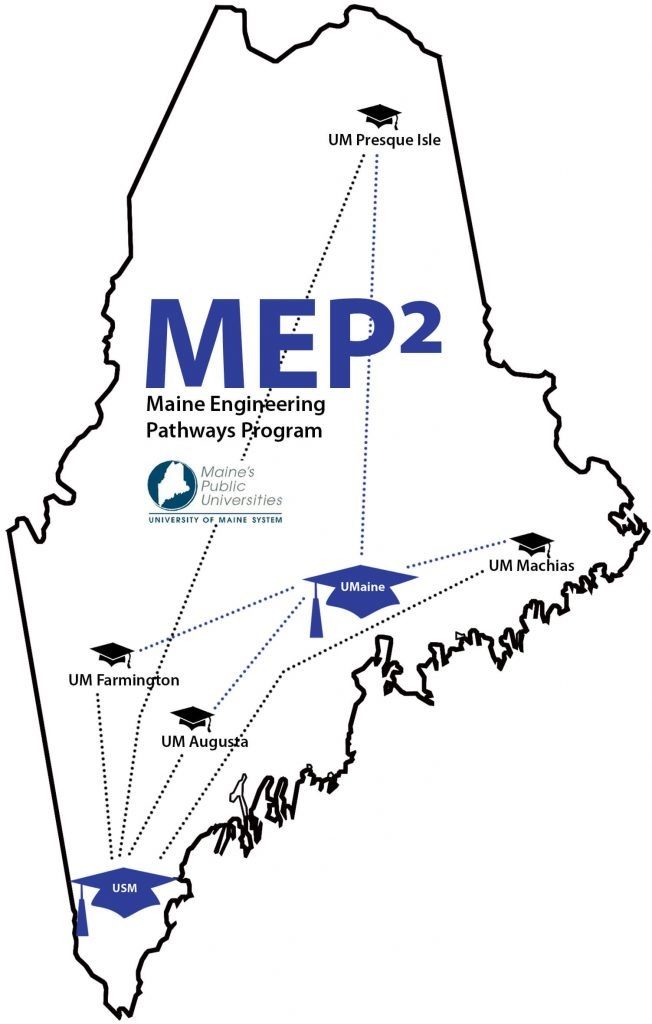 Available through UMaine's College of Engineering:
Biomedical Engineering
Chemical Engineering
Civil Engineering
Computer Engineering
Construction Engineering Technology
Electrical Engineering
Electrical Engineering Technology
Engineering Physics
Mechanical Engineering
Mechanical Engineering Technology
Survey Engineering Technology
Available through USM's Department of Engineering:
Electrical Engineering
Mechanical Engineering
Learn more about the Maine Engineering Pathways Program.
Academic Map