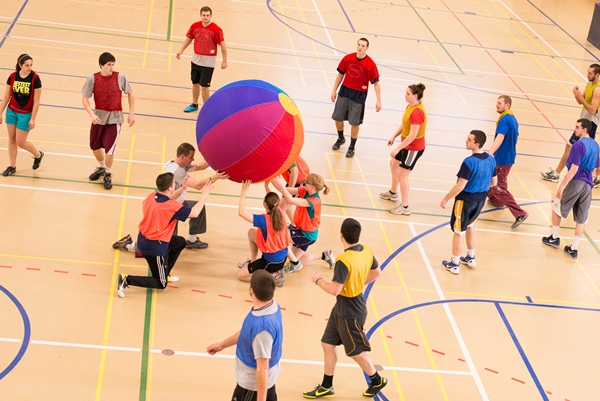 Whether you're looking to get a quick workout in, or pump some serious iron, our 4,000-square-foot fitness center is designed to accommodate you. Located on the building's second floor, the Fitness Center has workout areas that overlook the running track and gym on one side and the pool on the other side. Inside the center is over $100,000 in equipment consisting of cardio machines, resistance machines, and free weights.
If you're looking for a different type of exercise, the elevated running track offers three lanes for foot traffic, and the 13,000-square-foot multipurpose gym can be used for a variety of different sports, from basketball and soccer to badminton and volleyball.
Fitness & Wellness Coordinator
One of the unique things we're able to offer at Gentile Hall is our very own Fitness & Wellness Coordinator, Keli Marston.  
 Hours – Fitness Center/Track/Multi-Purpose Gym
Matrix Versa series strength machines, free weights for use with Smith Machine, squat racks, linear leg press, benches (flat, incline, decline, overhead, utility/multi purpose).
Matrix cardio equipment includes; 4  treadmills, 4 ellipticals, (2 uphill pre-core), 2 upright & 3 recumbent bicycles,1  spin bicycle, 2 rowers, 1 stepper, and 1 step-mill
Current Hours
(Subject to Change)
Monday-Friday
6:00AM-8:00PM
Saturday
8:00AM-4:00PM
Sunday
10:00AM-4:00PM
Check Pool & Rock Wall links for their specific hours.
Rules
Please click here for our general rules.
Fitness Center Guidelines
Children 13 & younger are NOT permitted in the Fitness Center.
Strollers, baby carriers, or attachable baby carriers are NOT allowed in the Fitness Center at any time.
Show respect for equipment and facility at all times. Do not DROP or THROW weights.
Keep equipment off the floor and return it to its proper rack when use is completed.
Utilize Spotters and locks when necessary (e.g. for overhead lifts, squats, bench presses, and platform lifts.)

Observe weight room etiquette and demonstrate courtesy towards others in the room at all times.

Chalk in any form is prohibited in Fitness Center, for health and safety reasons.
The on-duty supervisor has the authority over all room conduct and use of equipment. This includes the sound system if applicable.
It is against University policy to take photos in all facilities without written permission.
Immediately report any facility related injury or facility/equipment irregularity to the supervisor on duty.
We ask that you make use of the disinfectant wipes that are available before & after using equipment.
Remember that the student staff is just trying to do their job. Be considerate.
All other General Facility Rules are in effect and is located at the Front Desk.
Walking/Running Track Guidelines
For safety reasons, please DO NOT Stop while on the Track. If you need to rest, please do so in one of the corner areas.
Walls and railings are NOT to be used as stretching aids.
Do Not climb or hang off railings.
Corner areas may be used for stretching.
DO NOT carry anything that may obstruct another walker/runner or injure another patron.
Use caution when entering and exiting the Track.
Walk/Run only in the direction of the posted direction.
Walkers use the inside lane. Walk no more than two abreast.
Runners use outside lanes. PLEASE NO Sprinting.
Strollers, carriages, in-skates, etc. are not allowed on the Track.
Multi-Purpose Gym Guidelines
The gym is available for informal drop-in use when scheduled classes or club functions are not in session.
Courts are prioritized for informal recreation in sports of basketball, badminton, volleyball, and soccer.
Although the facility presents the option for a variety of activities – those allowed will be determined by flow of traffic.
The individual borrowing equipment is responsible for returning equipment and will be charged for damaged equipment.
Borrowed equipment may not leave the building.
NO HARD BALL activity allowed – i.e. baseball, softball, field hockey, etc. If you are not sure – PLEASE ASK.
PLEASE NO BLACK SOLED SHOES.
Staff has the authority to terminate any activity deemed unsafe.
DO NOT LOWER Baskets without permission.