Whether you're an existing or potential employee, Human Resources strives to provide excellent service and connect you with the resources and tools you need to be successful.
Jobs at UMPI
If you are interested in job notices and applications, please visit our Employment Opportunities webspace.
Campus HR Needs
The University of Maine System's Strategic Human Resources program provides HR services for our campus. Most information for existing employees can be found within the UMS portal. If you are a campus employee and need a point of contact for specific HR resources, such as Employee Benefits, Payroll or the RiseUp program, please click here.
Great Colleges to Work For Program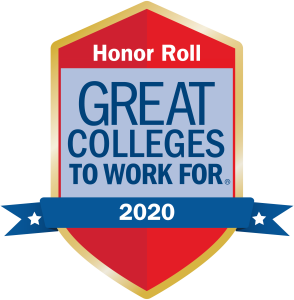 The University is pleased to have been named one of the best colleges in the nation to work for by the Chronicle of Higher Education's Great Colleges to Work For Program. This national recognition marks the first time ever that a public university in Maine has received this honor. In fact, UMPI was considered such an excellent place to work that it was named a 2020 Honor Roll Institution by The Great Colleges to Work For Program, after achieving high marks in 11 out of 12 categories measured.
The program includes an Institutional Survey that collects information about our benefits, compensation and employee culture and compares them to other participating institutions. The program also includes an Employee Survey that collects employee feedback about various aspects that contribute to the employee experience, including communication, recognition, compensation, employment development and more. The University uses the results gathered to help in achieving the bedrock initiative of its Strategic Plan, which stipulates that UMPI "will enable all employees to achieve their potential while also enhancing a sense of community and campus pride in all employees."
Employee Verification
Employment and income verifications are most often required when an employee applies for such financial products as loans and mortgages, requests reference checks, seeks an apartment lease, establishes credit or in any other circumstance in which proof of employment or income is required.
The University of Maine System and the Work Number, provided by Equifax, have joined in a partnership designed to render gathering this information more convenient for both employees seeking to provide it and verifiers seeking to gain access to it.
For more information, please visit https://www.maine.edu/employment-verification
---
The University of Maine at Presque Isle is an Affirmative Action and Equal Opportunity Employer.