The Registrar's Office maintains all official student academic records for the University of Maine at Presque Isle. Release of transcripts to a third party, such as other institutions or prospective employers, requires the student's written and signed consent. If you are applying to another institution in the University of Maine System (UMS), you do not need to request a transcript. UMS institutions have access to each other's records for the purpose of admission and transfer credit processing.
Under Maine law, the University must provide current and former students with their official transcript and/or diploma upon request regardless of an outstanding balance, though some conditions may apply based on the amount past due. For more information about this process, please see University of Maine System Administrative Practice Letter IX-K.
The University of Maine at Presque Isle has partnered with the National Student Clearinghouse to provide secure delivery of official transcripts to email or physical addresses anywhere in the world.
This is the quickest and most convenient way to order both electronic and paper transcripts. In most cases, your transcript will be sent to the recipient the same day.
The paper transcript service costs $4.30 per transcript, with express delivery available for an additional fee. The electronic service costs $3.50 per transcript, or $2.50 if the receiving institution participates in the Electronic Transcript Exchange (ETX). Fees are payable by credit card when you place your order.
Online Request
The online transcript request form can also be used to request paper copies only of your official UMPI transcript. There is no fee for this service, but it CANNOT be used to request electronic transcripts, and processing times are somewhat longer than through the National Student Clearinghouse. Transcripts are generally processed within 2-3 business days.
Request Official Transcript through your New Student Center and then to your MaineStreet Classic Student Center
If you are a current or recent student, have access to MaineStreet, and have no financial holds on your account, you may order an Official Transcript from your MaineStreet Student Center:
From your New Student Center, go to the bottom of the left menu list and click on Back to MaineStreet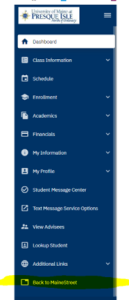 Login to MaineStreet
Select Self-Service
Select Student Center
Select Transcript:  Request Official from drop-down box labeled "Other Academic."
Complete Name and Address of recipient
Transcripts requested in this way are generally processed within 2-3 business days.
You may also print an unofficial transcript for your own records from your Student Center, by selecting 'Unofficial' from the dropdown instead of 'Official'.
Request Transcripts by mail
If you are unable to use any of the online transcript request methods, you can also download and complete the Transcript Request form and send it by mail or fax.
Mail your request to:
Registrar's Office, University of Maine at Presque Isle, 181 Main Street, Presque Isle, Maine 04769
You can also fax your request to 207-768-9458, or email it to umpireg@maine.edu
All transcripts sent directly to students will be marked "Issued to Student", and some institutions may not consider them official.
Please allow five business days from receipt of transcript request for processing.   There is no charge to send a paper transcript.
Questions?
If you have any questions, please email umpireg@maine.edu