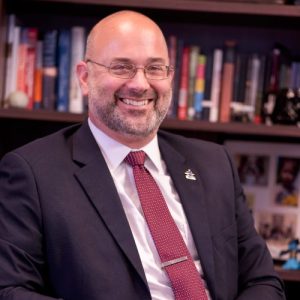 The Office of the President is led by Dr. Raymond J. Rice, who stepped into the position in July 2016 following the departure of Dr. Linda K. Schott. The University has had 11 presidents since the institution opened its doors in 1903.
The Office of the President is responsible for all aspects of campus operation within the campus mission, as well as plans and policies stated by the Chancellor and the Board of Trustees of the University of Maine System. The President's Office also works closely with the University of Maine at Presque Isle's Board of Visitors, Foundation Board, and Alumni Board.
Welcome Message from the President
Welcome to the University of Maine at Presque Isle. If you're looking for a place where learning is tailored to your needs, where you receive career preparation throughout your college experience, and where you get concrete proof of the skills you've learned in a way that you can show to future employers, then look no further. We are so excited about the efforts underway at UMPI to provide every single one of our students with an educational experience that puts you, the student, your learning styles, your passions, and your previous experiences in higher education first and foremost—whether you are a first time student or a working professional completing a degree. And that means we want you to have a say not only in what you learn but how you learn it. Delivering education in an innovative and interactive way puts us at the national forefront of higher education institutions.   We work hard to provide you with an exciting range of learning opportunities and resources, from Honors Programming to Learning Communities to internships and scientific research, in majors that prepare you for professional careers and graduate programs. And this includes our YourPace degree completion programming, the only public university in New England to provide a subscription-model, competency-based program designed specifically for working adults and professionals that meet your unique needs.  Connect all of that with the vibrant campus life we offer at UMPI, including NCAA Division III Athletics and our myriad student clubs and activities, and you have the makings of an incredible university experience. So, join us, and find out why the University of Maine at Presque Isle is college The Way It Should Be.